The Blockchain Association of Ireland (BAI) is going from strength to strength with 2017 being something of a coming of age year for the technology. What began from humble beginnings in a small research group called Coding Value at University College Dublin, today The Association has a significant membership composed of a number of heavy hitters in the tech space. A meeting can have from thirty to over a hundred participants from diverse sectors and areas with expertise as likely to be from insurance professional to poets!
Ireland can boast some serious players and events in what is becoming a very exciting space.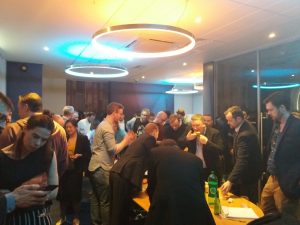 In the year since its inception Bitcoin has tripled in price and Blockchain, the database technology underlying Bitcoin is attracting some very serious attention from cross-industry experts in diverse fields ranging from law to airplane leasing. Anything that can transacted may be a suitable candidate for Blockchain innovation.
Checkout the Association here:
and the meetups which happen fortnightly in Dublin and are advertised on Meetup.com. Discussions have included IBM's Hyperledger project, Etherium and Bitcoin.
The BAI will host a stage at Tech Connect Live Conference May 31st 2017.